Thursday, June 19, 2014 / by Chase Horner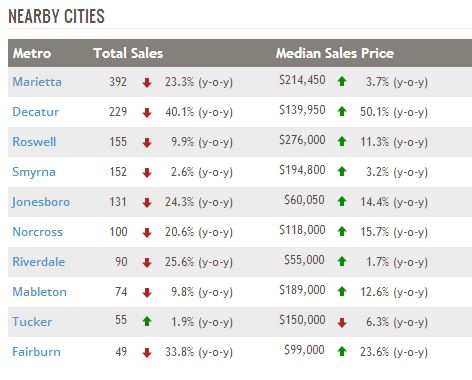 Home sales all accross the metro Atlanta area have fallen in the past year, with many dipping over 20% from the previous year. Though this might seem like a bad omen for sellers, it can be quite the opposite. Lower inventory means that homes on the market are in greater demand, and thus worth more. The median sales price alone has risen more than 12% for most metro communities, with some increases as high as 50% in cities like Decatur. For the actual City of Atlanta, the median sales price has exceeded the prices from before the recession.
And while these numbers are comforting to sellers, buyers can still benefit from the current market, because the number of homes on the market increased 66% from March to April, indicating the arrival of prime buying and selling season. But, the sooner you buy, the better off you'll be.
If you're looking to sell, now's the time to do it. Begin your home selling process by finding out the value of your home.
If you're looking to buy, don't wait too long if you're looking to save some money. Start your Atlanta home search now.